Don Mills Achievement Center
"Meeting the needs of ALL ABILITIES for 95 years."
In 1925, several prominent individuals of Warren created the Crippled Children Committee to help people who were crippled with polio. Many agencies became aware of the positive steps being taken and thus began to cooperate in the effort. Over the next several years the center began to give aid and care to individuals suffering from all forms of disabilities and have since provided treatment for all those people who have walked through the doors. As time passesd, programs were added and services updated, until every need could be met.
In 1955, a corporate name change occurred in order to give thanks and rememberance to a man who dedicated his life to the agency. However, the services and program were still the same with an even greater emphasis placed on quality and caring. Don Mills became an inspiration for us to follow through with, and this created positive and effective services for many disabled individuals.
For our citizens all abilities, we are proud to still carry the torch for our disabled citizens and lead the way for care and treatment. It has been over 90 years that we have cared for our community and we look forward to many more.
Don Mills Achievement Center currently offers the following programs: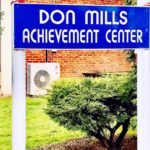 Childcare is coming soon!!
Early Childhood Learning Center
A licensed private academic preschool serving children 3-5 years old with a developmentally appropriate curriculum in a socially supportive environment.
Speech Therapists
Provides hearing, speech and language screening assessments, and individualized therapeutic programs.
Camp Talk-A-Lot
A summer day camp offered for young children with speech, hearing, and learning challenges.
Rainbow Swim
Provided with the cooperation of the YMCA and volunteers. A free recreational swimming program focusing on motor & social skills.
Financial Assistance
Offered on an individual, as needed basis, to assist in the purchasing of specific supplies and/or equipment required to meet the individuals needs.
Operation Take Me Home
An electronic tracking system reassuring families a speedy recovery should their loved one wander away from home.
As always, we are here for referral and Advocacy for all the residents of Warren County.